The project "Promotion of Equal Economic Opportunities and Resilience of Youth" (hereinafter referred to as Sanarip Insan) is being implemented by the Public Association Internet Society Kyrgyz Chapter with the assistance of the Delegation of the European Union to the Kyrgyz Republic. Sanarip Insan aims to develop digital knowledge and skills among youth and women living in the regions. This project provides for holding information activities to increase the level of digital literacy in cooperation with the media and social networks; adaptation and development of educational and methodological materials with representatives of the education sector, as well as conducting joint initiatives on the digital economy with stakeholders and government agencies to train young people to work on digital platforms – e-government, e-commerce and the digital economy.
In a series of webinars of the Sanarip Insan project, local and international experts with experience in the digital economy for youth, women, students, migrants and citizens living in remote areas share their experience. Webinars provide theoretical and practical aspects related to digital skills. Citizens of all regions of Kyrgyzstan can take part in it and get the necessary information about the advantages and possibilities of information technologies.
In the Sanarip Insan podcast, the presenters and guests discuss the path, image and success of digital people who are closely related to information technologies, seek answers to questions about how modern technologies have changed people's lives, how they make their lives easier, save time and help gender specialists in accordance with modern requirements. The podcast shares information on examples from real life to inspire women and youth living in remote areas of the country.
Sanarip Insan on social media
Project Sanarip Insan actively maintains pages in social networks. Facebook, Instagram and Twitter pages contain information about the main moments of project implementation: special events, trainings, webinars, podcasts and official meetings. In addition, there are publications and stories about the necessary information for users of the social network, related to information technologies, digital platforms for conducting business and the most elementary signs of digital literacy. Through social networks, a close and operational connection is created between our project and the audience, sometimes through polls, discussions or user comments.
Published: 10/02/2023 Deadline: 17/02/2023 Revised competition due to changes in the list of training locations and simplified qualification requirements for performers The "Sanarip Insan" Project,
Read More »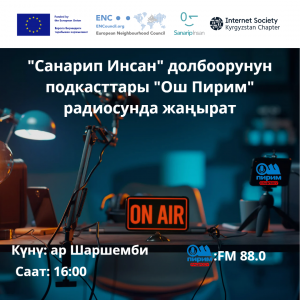 Now, all podcast episodes of the project "Sanarip insan" are broadcast on air radio "Osh Pirim". The audience of this radio is more
Read More »
Project Sanarip Insan closely cooperates with local and international mass media. As a result, news about the court, articles-interviews and live discussions about important events, trainings, webinars in the process of active implementation of the project will be organized through the main information sources in Kyrgyzstan. Through them, ordinary citizens are informed about Kyrgyzstan in the digital era and the opportunities created by information technologies. The approximate target audience is more than a million people.