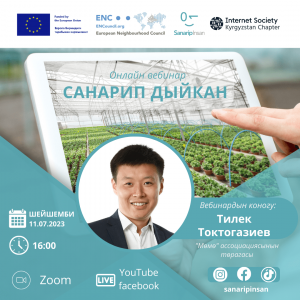 Digital technologies are increasingly penetrating all spheres of human life, and agriculture, which is the primary sector of the economy for our country, is no exception.
Digital technologies help reduce the environmental burden in agriculture and enhance the efficient utilization of natural resources.
The digitization of the agro-industrial complex aims to prevent crop losses due to unpredictable weather conditions, eliminate deficiencies related to sowing, harvesting, and storing crops, enable real-time monitoring of agricultural areas, reduce theft of material assets, fuel, plant protection products, and seeds, as well as facilitate prompt product distribution or government support.
At the upcoming webinar, we will discuss the benefits of digitization for farmers, the latest developments in this field, the problems that need to be addressed, and the expected outcomes. Our guest for this webinar will be Tilek Toktogaziev, the chairman of the "Momo" Association.
Digital technologies are revolutionizing various aspects of human life, including the agricultural sector, which plays a crucial role as the primary sector of our economy. By harnessing the power of digital innovations, we can significantly reduce the environmental impact of agriculture while maximizing the efficient utilization of natural resources.
The primary objective of digitizing the agro-industrial complex is to mitigate crop losses caused by unpredictable weather conditions. Furthermore, it aims to address deficiencies related to crucial agricultural processes such as sowing, harvesting, and crop storage. Real-time monitoring of agricultural areas empowers farmers to make informed