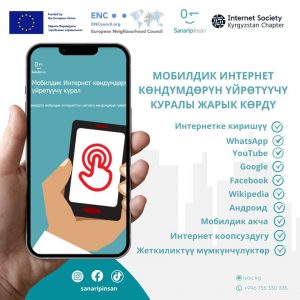 The Sanarip Insan project aimed to address the critical issue of low digital literacy rates, particularly among rural youth and women in the Kyrgyz Republic. Despite the high mobile phone penetration rate in the country, many individuals lacked the skills to effectively use mobile devices beyond basic communication. Recognizing the significance of a mobile-first approach, Sanarip Insan partnered with international platforms to adapt their expertise to local needs and realities.
To promote digital inclusion and economic development in the region, the project successfully localized the GSMA Foundation's Mobile Internet Skills Toolkit (MIST) into Kyrgyz and Russian languages. Training sessions based on the MISST Framework were conducted in all regions of the country. This approach proved instrumental in advancing mobile literacy skills among rural populations with limited access to fixed broadband infrastructure and desktop computers.
As of the beginning of 2023, the total population of Kyrgyzstan was 7.37 million, with 62.3 percent residing in rural areas. Given the high mobile phone penetration rates and the increasing usage of mobile internet in the country, it is crucial for development organizations to adopt a mobile-first approach in their interventions.
In its efforts to promote digital literacy skills among rural youth and women, Sanarip Insan organized offline training sessions for over 250 participants. These training served as valuable opportunities to test the mobile literacy toolkit in real-world settings. Through these sessions, participants were able to enhance their digital literacy skills, gain a better understanding of mobile platforms and applications, and acquire hands-on experience in using mobile devices.
In addition to the training, Sanarip Insan collaborated with the Presidential Administration and the Ministry of Youth, Culture, and Information to broadcast bite-sized videos about digital platforms and basic digital literacy skills on national and regional TV channels. These videos were produced in both Kyrgyz and Russian languages to maximize their reach. Through this partnership, Sanarip Insan successfully reached 4 million people, accounting for 55% of the country's total population, particularly those residing in rural areas.
By combining offline training and national TV channels, Sanarip Insan made a significant impact on improving digital literacy skills among rural populations in the Kyrgyz Republic. This approach not only promoted digital inclusion but also empowered individuals to participate in the global digital economy. Through these efforts, Sanarip Insan demonstrated how targeted interventions, developed in collaboration with international partners and adapted to local contexts, can effectively promote sustainable development and contribute to the achievement of the Sustainable Development Goals.