On April 27, 2023, a team comprising representatives from the ISOC Kyrgyz Chapter, ICTP, and CAIAG successfully installed and launched Lorawan-enabled sensors on the Tatyr landslide.
The Tatyr landslide is geographically situated 30-40 km south of Bishkek. Administratively, the area is part of the Arashan aiyl district within the Alamedin district. Formed on a north-facing slope, the landslide extends for 1510 meters, with a width varying between 250 to 300 meters, and a thickness ranging from 10 to 15 meters. The landslide involves loamy soils, encompassing the underlying Paleogene-Neogene age rocks. Its formation is primarily attributed to anomalous atmospheric precipitation, coupled with the impact of groundwater emerging as springs and a proximate tectonic fault. The last significant activity was recorded in 2004 when the landslide moved 70 meters following a year of intense rainfalls. The landslide lies along the route to popular skiing locations and tourist destinations. Previously, monitoring was performed manually through periodic on-site visits. The site's proximity to Bishkek city made it an ideal pilot location for this research project, allowing for swift sensor calibrations and validation of research goals.
Bolot Moldobekov from CAIAG provided an overview of the landslide, discussing its features, historical background, and offering practical guidance on sensor installation for accurate data collection. Ermanno Pietrosemoli from the ICTP trained the team on the installation of Lorawan gateways, antennas, signal calibration, firmware upgrading, and sensor connection via Lorawan frequencies. Marco Zennaro assisted with the installation of monitoring software, providing a practical demonstration of how MQTT works and ensuring the secure transmission of data to servers through VPN channels. All team members participated in the installation of masts, equipment, sensors, and the establishment of a protective perimeter around the site.
The sensor installation aims to practically test and validate Lorawan technology, sensors, and the power of open-source solutions. It is anticipated that the equipment will generate automatic data via Lorawan and transmit it to the servers, benefitting key stakeholders and local communities. Furthermore, the data will be visualized in a user-friendly format, enabling interested parties to understand and assess the current situation efficiently.
Additional information on the Tatyr landslide: The active 70-meter slope movement recorded in May 2004 came just a year after 2002's high precipitation year, which triggered widespread slumping of the foothill and some mountain slopes. This suggests that the landslide's base is permeated with groundwater from deep fractured zones, requiring substantial time to circulate. Moreover, the Tatyr landslide belongs to deep-seated landslides, encompassing significant depth of slope deposits in its movement. Landslides of this nature are known for their long periods (30-50 years) of stability.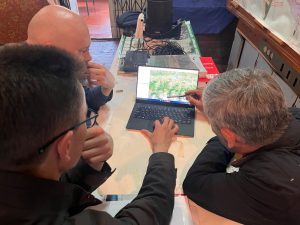 On May 19, 2023, the Internet Society (ISOC) Kyrgyz Chapter convened a meeting with the Institute of Water Problems under the Academy of Sciences of
Read More »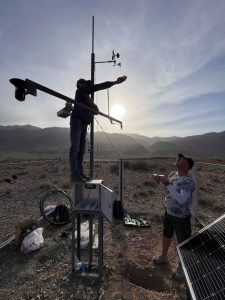 The ISOC Kyrgyz Chapter team, in response to a request from the Ministry of Emergency Situations, has made a crucial advancement in natural disaster mitigation
Read More »
On April 27, 2023, a team comprising representatives from the ISOC Kyrgyz Chapter, ICTP, and CAIAG successfully installed and launched Lorawan-enabled sensors on the Tatyr
Read More »