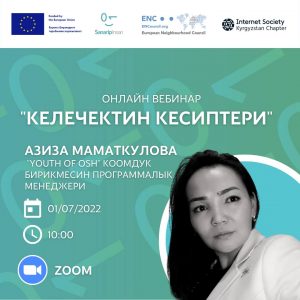 Date: July 1
Time: 10:00

Zoom connection via the following link: https://us06web.zoom.us/j/87006113545pwd=NTR2bDR0T1QwOTFiNEhoN3BZQWs3dz09

Live stream:
Youtube: https://youtu.be/COiojiTeE-o
Facebook: https://fb.me/e/2CZEvVosi
On July 1 at 10:00 an online webinar "Professions of the Future" will be held. Today, professions and professional competencies are changing very quickly. The principle of "learning throughout life" has become more relevant than ever. If earlier it was considered a success to show one job in the work book, now such an indicator confirms that a person is not ready for a rapidly changing world. If you do not master a profession that meets the demand of the future, you may be replaced by robots or artificial intelligence, which may leave you unemployed in the future. The speaker of the webinar will be Aziza Mamatkulova, program manager of the Youth of Osh public association. Has experience in the field of civic education. During her work in this area, she worked directly in programs on civic education, the basics of human rights, democracy, the rule of law, the electoral process, developed training modules and programs, their distribution, inclusion in the field of non-formal and formal education. The expert has experience in conducting trainings for youth and adults since 2003. Since 2020, he has been the manager of the program, which, as part of his activities, is working on the development, dissemination and scaling of the "youth self-knowledge and personal development" methodology, aimed at guiding young people to a profession and creating a dialogue between generations. This approach aims to improve the communication skills of youth and adults by teaching them effective communication techniques and other interpersonal skills.
Applicants, teachers and parents from all over the country can take part in the online webinar. The main broadcast will take place on the Zoom platform, and it will be broadcast live on Facebook and YouTube.