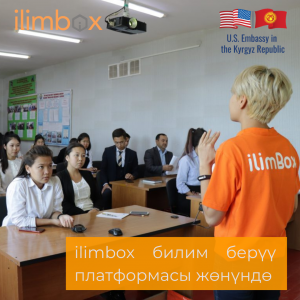 Open educational platform ilimbox
Ilimbox.kg is the first educational online platform for schools in the Kyrgyz language of instruction.
A system enabling distance learning. Using the platform, you can read online lessons, organize interactions between students and teachers, and measure learning outcomes.
An educational platform for teachers and students of all Kyrgyz-language schools in Kyrgyzstan is available at www.ilimbox.kg. All materials comply with the standards of the Ministry of Education and Science of the Kyrgyz Republic.
The Ilimbox Distance Learning Educational Platform for Schoolchildren project is funded by the Democratic Commission's Small Grants Program of the US Embassy in the Kyrgyz Republic 2020-2021.