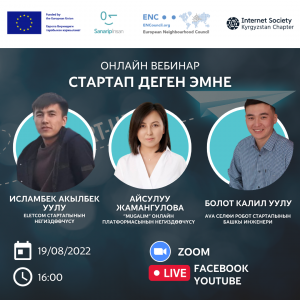 Online webinar: "What is a startup?"
Date: August 19
Time: 16:00
Join Zoom at the following link:
https://us06web.zoom.us/j/81407155336?pwd=Yi9QK2NpdHhvNmw3ZCtGR1N5M0JXUT09
On-line translation:
Youtube: https://youtu.be/TaEVZkRvOaw
Facebook: https://fb.me/e/3EUzSidzk
Organizers: Kyrgyz Branch of the Internet Society and NGO "Center for Civic Initiatives "Leader"
Moderators: Azhybek Nurlanov,
Today, many startups are being created, with the aim of making money or to change the world with the help of their idea.
We live in a time when the approved chains of interaction of elements are breaking down, and right now it is worth starting to think about creating a new one that will greatly simplify the life of society.
In other words, right now we need to create projects useful for people in order to be builders of a new world, and not passive observers complaining about the world around us.
If you understand the need to create a quality offer for consumers, many of you may have a logical question. AS?
In this webinar, experts will tell you how to develop a cool startup from start to finish, realize your potential and satisfy the needs of the people around us!
Speakers will be:
Aisuluu Zhamangulova – The ideological inspirer and co-founder of the online school for teachers MUGALIM
Bolot Kalil uulu – Lead engineer at selfie robot startup AVA. Startup from Naryn for the whole world.
Islambek Akylbek uulu – Founder of startup Eletcom, will talk about Startups and investments.