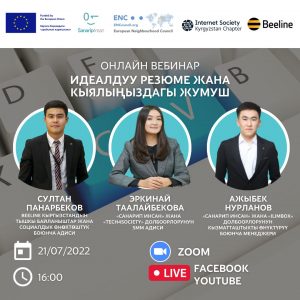 Online webinar: "Perfect resume and dream job"
Date: July 21
Time: 16:00
Join Zoom at the following link:
https://us06web.zoom.us/j/81255076673?pwd=d2dZa1VSN3c0aEEyYm5Sczd4UnNhZz09
Live stream:
Youtube: https://youtu.be/hu2HQ1Qecaw
Facebook: https://fb.me/e/2M5sbrynL
When looking for a dream job, a resume is one of the key points. An employer can be hooked or repelled by a little thing that you would not have paid attention to, and because of which you can miss a great job. So how do you write a resume so that a potential employer will at least not put your resume aside?
We will talk about this and much more at the webinar.
Speakers will be:
– Panarbekov Sultan, specialist in external communications and social partnership, Beeline Kyrgyzstan. The Sultan is engaged in the conduct of social projects aimed at the development of youth, innovation, entrepreneurial spirit, digital technologies and computer literacy of the population, and also worked as an IT specialist in the international youth organization Enactus;
– Azhybek Nurlanov, manager for the development of partnerships of the projects "Sanarip Insan" and "ilimbox";
– Erkinay Taalaybekova, SMM specialist of Sanarip Insan and Tech4Society projects.