The teacher of the ilimbox project Temiralieva Cholpon won a competition among teachers of schools in Central Asia for the best lesson design with media literacy components.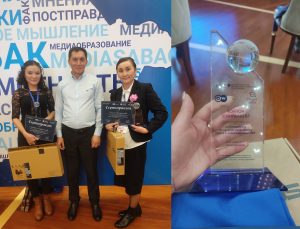 As the author of the best works, she participated in the II Central Asian Conference on Media Information Literacy (# CAMILCon2021), which took place on October 14-15, 2021 in Bishkek.
She got the opportunity not only to participate, but also to speak and present her competitive lesson.
"I prepared and taught a lesson for 7th grade on the topic: pressures of solids. Used Kahoot in my tutorial! and materials of the ilimbox project and TikTok video. After the presentation, many liked the short and concise videos from the TikTok Ilimbox page. I would like to thank the ilimbox project and we are looking forward to new lessons and projects for Kyrgyz schools from the ilimbox platform ".
Temiralieva Cholpon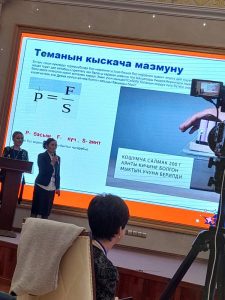 You can see the competitive lesson of Cholpon Kanybekovna with components of media literacy at the following link:
https://docs.google.com/presentation/d/1_aNQwFE_-gvNS0EqTQJiyeBwnjbf0HuB/edit?usp=sharing&ouid=114695456313747841796&rtpof=true&sd=true
The competition was held as part of a project to improve media information literacy in Kyrgyzstan with the support of the Federal Ministry for Economic Cooperation and Development of Germany, Deutsche Welle Academy
Cholpon Kanybekovna, a physics teacher at the school-gymnasium of the village of Tamchy and the creator of the online lessons of the project "ilimbox – a source of digital knowledge."
More details in the following video:
The ilimbox team employs experienced teachers from the Issyk-Kul region. Teachers develop online lessons on the ilimbox platform. The ilimbox team selected teachers and conducted trainings to improve digital skills.
After improving their digital skills, they began work on creating online lessons. Currently, online lessons in 12 subjects for high school students have been developed and posted.
This subproject is implemented by the NGO "Kyrgyz Internet Society" with the financial support of CJSC "Kumtor Gold Company"
The Ilimbox Distance Learning Educational Platform for Schoolchildren project is funded by the Democratic Commission's Small Grants Program of the US Embassy in the Kyrgyz Republic 2020-2021.The Ilimbox project is funded by the Democratic Commission Small Grants Program of the US Embassy in the Kyrgyz Republic.