Ilimbox team dedicated its efforts to making presentation to the teachers and schoolchildren of the Naryn oblasty, high mountainous region of the country, where most of the schools are taught in Kyrgyz language. The team conducted trainings and presentations in Naryn city as well as travelled to distant schools to inform users about Ilimbox Platform and collecting user feedback to improve the platform. Here are some highlights from field trips.
Our team continues to introduce the ilimbox.kg educational online platform. This time we met with the head of the Naryn district education department Isakova Gulbarchyn Beymanzhanovna and made a presentation. The presentation was attended by leading specialists and the staff of the education department.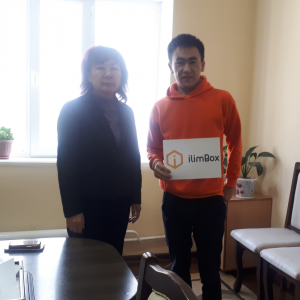 During the presentation, detailed information about the educational online platform ilimbox.kg, the registration process, selection and training of courses, as well as information about the content of online lessons were provided. The teachers said they would use the platform together with the students.
In 34 schools of the Naryn region 12 802 schoolchildren study and 2 905 teachers work. ilimbox is an open educational platform on the Internet. Students with disabilities can choose the most convenient format for completing homework – video, audio, text. Students from remote villages in the country will have access to educational resources used by the capital's schools.
Ilimbox is the first EduTech complex in Kyrgyzstan, which provides quick and safe access to digital educational resources in the Kyrgyz language, teacher and student feedback, student progress control, the possibility of distance learning for children who are temporarily unable to attend school (due to illness or quarantine). Such a platform is relevant as a tool for solving problems with a shortage of textbooks, absence of teachers, or when a class is closed for quarantine.
The Ilimbox Distance Learning Educational Platform for Schoolchildren project is funded by the Democratic Commission's Small Grants Program of the US Embassy in the Kyrgyz Republic 2020-2021.