As part of the global Internet Society initiative to promote community internet networks, we are pleased to announce that wired internet has become available in the remote mountainous settlement of Kyrchyn in the Naryn region. All the necessary technical work for laying optical fiber networks to the settlement has been completed. 
Kyrchyn is a settlement consisting of 18 houses located in the Jumgal district, with approximately 100 residents. Today, high-speed internet has been introduced in every household in Kyrchyn, allowing residents to fully access internet services, and children to engage in remote learning when needed.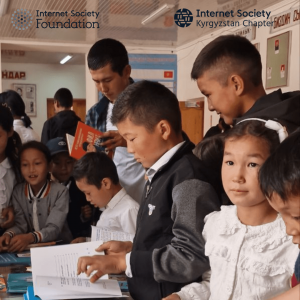 For 22 schoolchildren in Kyrchyn, who walk 3 km to school in neighbouring Aral, the arrival of the Internet was a great joy. While spring and autumn go to school without obstacles, winter conditions are severely frosty. The road to school follows a winding and uninhabited route, where wolves and wild animals have been observed. During the pandemic, everyone climbed the nearest mountain to catch the signal and download the necessary materials.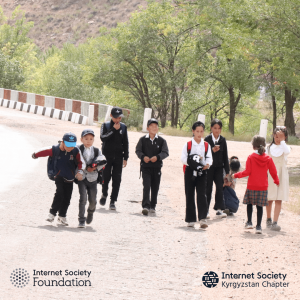 "Since the Internet became available, it has become much easier to learn. Because of the lack of books, we had to go to each other's houses to do our homework. Nowadays, we can simply take a photo and send it through WhatsApp. My mom works and lives in Bishkek, and we missed her, but we couldn't talk to her. Now we talk to her every day. And it has become easier for my brother, who has been working in Moscow for 5 years. Now we can talk to him at any time, and he can send money through the internet faster."- said fifteen-year-old resident of the village of Kyrchyn Tahmina.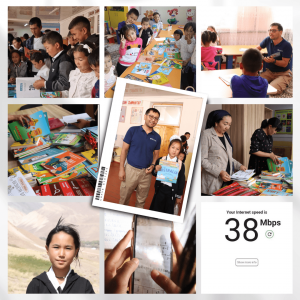 We visited the school in the village of Aral, where the children from Kyrchyn attend. As part of the "IlmBox" project, 100 books on ecology, IT, geography, inspirational literature, and books on improving mobile literacy using the GSMA Foundation Mobile Internet Skills Training Toolkit methodology were donated to the local library. This initiative aims to ensure that students and residents can derive maximum benefit and advantages from internet access.
The mission of the Internet Society Kyrgyzstan Chapter is to promote a healthy internet for all. ISOC Kyrgyz Chapter actively establishes and showcases sustainable models of community internet connections in Kyrgyzstan.  We have already installed internet for communities in the Suusamyr Valley, where winter temperatures can drop to -50 degrees, and in Zardaly, a village in the Batken region, where people have to travel by foot and on donkeys for 5-8 hours, and where there is no electricity as well.
The project is funded by the Internet Society Foundation.