In April, we announced a competition for teachers in the Issyk-Kul region in the ilimbox food project to fill content into the educational portal. More than 90 teachers submitted applications, 52 passed to the second round, and the ilimbox team selected 12 teachers for further work and held a seminar on digital skills.

The ilimbox team introduced teachers to Google programs, online communication and other digital applications. They also learned to work remotely, since in the future all work will be organized remotely.
They have mastered email, created a lesson template in Google Doc, save files to Google Drive, and communicate with the team remotely.
Participants gained experience in image search, reducing file sizes without losing quality, finding the right information and content for schoolchildren, structuring materials and search engine optimization.
More details in the next video.
The teachers who successfully completed the seminar were awarded certificates.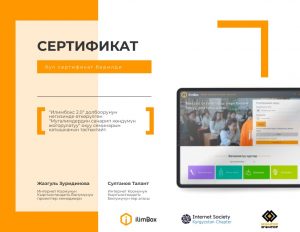 9 teachers started working with us, who proved themselves well and were ready to work with us.
Our professional teachers create complete online lessons for students within the framework of video lessons and thematic subject plans, making them interesting and informative for students. Supplemented with interactive games, tasks and tests.
This subproject is implemented by the NGO "Kyrgyz Internet Society" with the financial support of CJSC "Kumtor Gold Company"
The Ilimbox Distance Learning Educational Platform for Schoolchildren project is funded by the Democratic Commission's Small Grants Program of the US Embassy in the Kyrgyz Republic 2020-2021.The Ilimbox project is funded by the Democratic Commission Small Grants Program of the US Embassy in the Kyrgyz Republic.
This article is also available in video format, where Zhazgul Zuridinova, the ilimbox project manager, talks about it.