As a reminder, the ilimbox team has already launched the IlimBox digital library. Currently, Ilimboks equipment is installed in schools located in remote areas of the country where there is no Internet connection.

The digital library includes Wikipedia in Kyrgyz, Russian and English, Khan Academy in English, as well as thousands of audio, video tutorials and e-books.

IilmBox – the electronic library was small in size. It has two components. The first is the hard drive. The other is a small mini computer. The hard drive holds 2 terabytes of data. A small Orange Pi mini computer is connected to the hard drive. The computer has Wi-Fi hotspots. These two systems are connected to each other and placed in a box called IilmBox. It is enough to insert the box where there is electricity and users can learn with IilmBox via phone or computer. No internet access and no payment because everything works offline.
This system provides access to all educational resources without an Internet connection. More information is available at https://isoc.kg/ru/ilimbox/.
In Kyrgyzstan, 2.5 million schoolchildren, COVID-19 forced these children to distance learning, which created difficulties for children, parents and teachers. At the same time, it has provided new opportunities for distance and online learning.
The ilimbox team noticed that there are many problems with distance learning, such as the lack of textbooks and e-books that are not adapted for mobile phones, video tutorials only on TV and YouTube, and the lack of educational materials in the Kyrgyz language.
"Ilimbox.kg is the first educational online platform for Kyrgyz-teaching schools in Kyrgyzstan."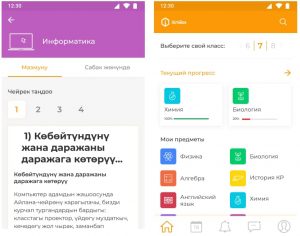 A system enabling distance learning. Using the platform, you can teach online lessons, organize interactions between students and teachers, and measure learning outcomes.
Educational platform for teachers and students in all Kyrgyz-speaking schools in Kyrgyzstan (website, mobile application and electronic device for regions without the Internet). All materials comply with the standards of the Ministry of Education and Science of the Kyrgyz Republic.
The Ilimbox Distance Learning Educational Platform for Schoolchildren project is funded by the Democratic Commission's Small Grants Program of the US Embassy in the Kyrgyz Republic 2020-2021.The Ilimbox project is funded by the Democratic Commission Small Grants Program of the US Embassy in the Kyrgyz Republic.